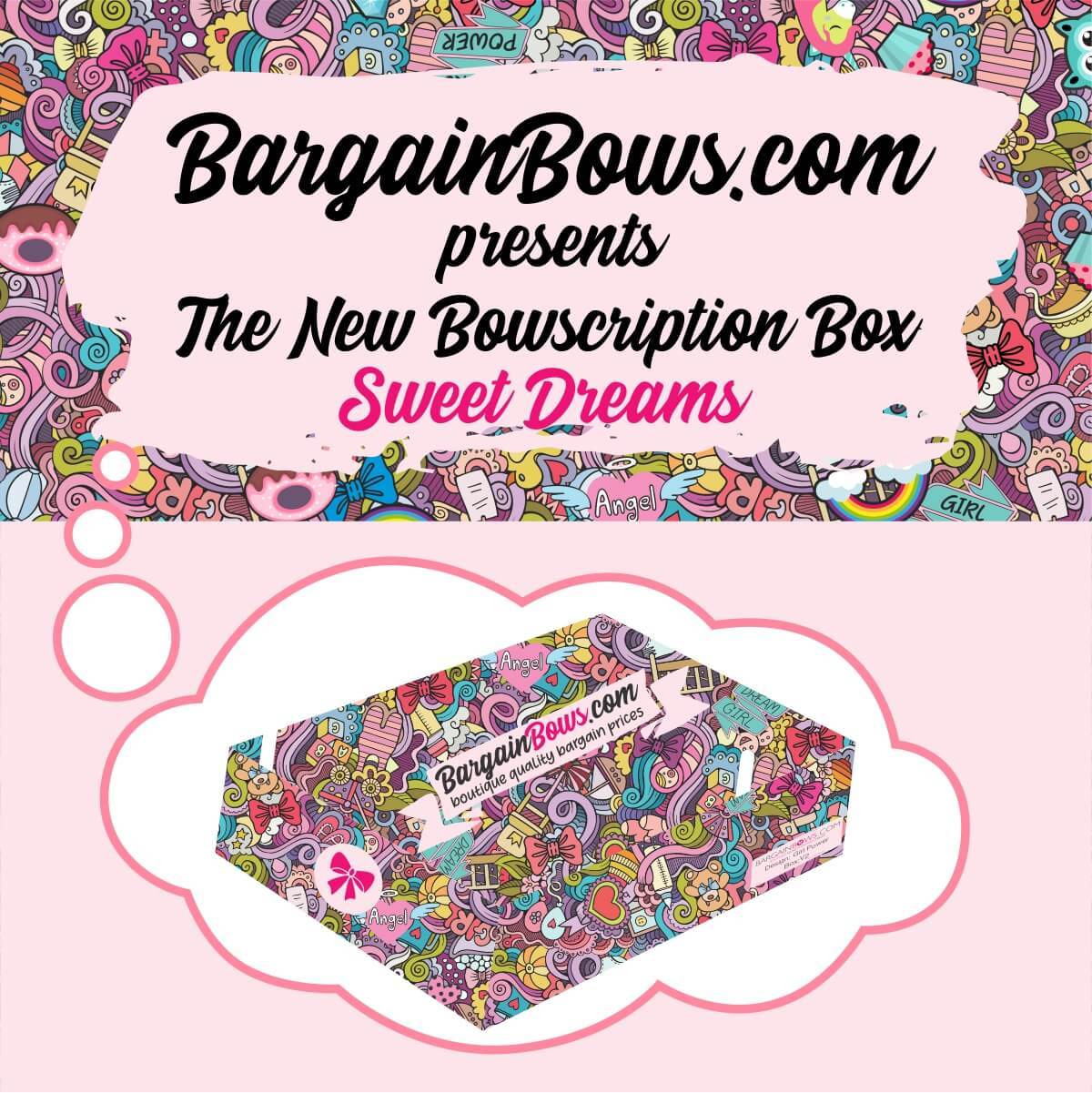 ---
Presenting the new Bowscription Box Sweet Dreams Edition.
Current Members wanting to upgrade CLICK HERE
Your Bargain Bows Subscription Box will include atleast 7 Hair Bows. These items will include a SURPRISE mix of the following:
Special Edition color(s) one of our popular Bargain Bows in a color not available for purchase on our website.
Special Edition style(s) one solid color Bargain Bows but a new style that is not available for purchase on our website.
Boutique style Bows
Boutique Style Headbands
Interchangeable Headbands
New in style Bows and Headbands

Please note all products listed will not be included. It will be a mix of some listed...that makes it a Surprise!

NEW! Awesome Accessories and Goodies. Subscribers to the new box will get extra accessories and goodies aside from just Hair Bows.

NEW! Additional Discounts. Extra Coupons and savings in each Box.

NEW! Member Exclusives. Save 10% on the ENTIRE STORE NO EXCLUSIONS except ont he Bowscription Box itself. Exclusive free hair bow offers. Yearly Exclusive Specials and Early discount shopping.

All Boxes have FREE shipping and start shipping after the 10th day of each month. If 10th day lands on a weekend they will be shipped the following business day.
This plan auto-renew on the 1st of the month.
Choose from two different box options:
Kiddiez- This option will have hard headbands or bows with clips. The bows will range in different sizes. This option is for older kids and children.
Littlez- This option will have elastic headbands or boutique headbands. The bows will range in different sizes. This option is for toddlers and younger babies.
FOR MORE QUESTIONS CHECK OUT OUR BOWSCRIPTION BOX FAQ
Prepay and save big!
Subscribe below
---
Save when you purchase multiple months at a time. You can cancel any time after your month ends. You can go month to month or you can cancel after the end of any of the multi months.